The things that your cock and body are doing to me right now are absolutely sinful!  I'm very real baby and I'm just a horny girl that loves cock. I obviously love what I do and that's because I enjoy being honest with men about what they're working with. Here is where you not only get my opinion, but the opinion of other lovely ladies too. With that being said,  I want to lick you all over. Damn you are hot baby.  Let me tell you right now, you meet and exceed a majority of girls expectations so you have no reason to be self conscious about your cock.   I feel like such a naughty perve because I can't stop staring at this photo.  You have a sexy uncut cock that I want to do so many things to. I want to place my hand around the shaft and slowly stroke down so that I can expose your pink cockhead, run my tongue between the slit, and taste your delicious pre-cum…yummy. Your cock is slightly longer than average. As I'm sure you already know, you're not extremely long. This works great for women like me because I enjoy taking a man all the way to the balls inside of my cunt and you would fill me completely. Your balls look so tight, and you have a sexy sack too.  Your girth is mm mm good! I want to feel you on the inside of me, stretching me,  and forcing my walls to expand around your thick cock. The fact that you're completely shaven adds extra points in my book because you obviously take pride in your cock and you should.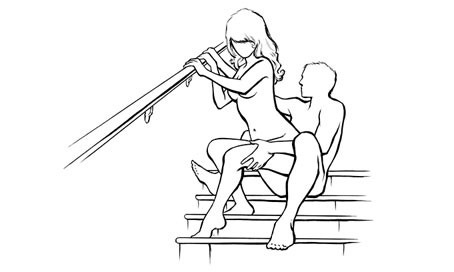 I would be very impatient about around you and there is no way that we would make it to the bed on most days if you were in my presence. This is why I chose the stairway to heaven position with you.  As we enter the apartment from a night out on the town and we head up the stairs, I'm unable to keep my hands off you and I whisper in your ear "fuck me right here" . I unzip your pants and pull your cock out of your pants as you lift my skirt and push my panties to the side. You feel my slick heat against your fingers as you probe me. I firmly stroke your cock and I feel the blood pulse inside of it. As we kiss and explore each other's bodies I push you down to sit on the edge of the stairs and I turn away and back up into you. I can feel your exposed cock head pushing inside of the lips of my petals and pressing against my tight fuckhole.  My pouting pussy lips nearly dripping my with desire as you enter my warm slippery chute. I quiver as you hit the roof and rock my hips back and forth feeling my slick walls stretch around you. I push off of the stairs using my legs as I rise and lower myself over and over again… my pussy continuously swallowing your cock. You grab my hips and  drill into my pussy.. over and over again causing  our bodies  send  slapping noises throughout the hall. AHHH.. fuck me… yessss I moan loudly as my pussy convulses, drawing you tighter into me… milking your cock ..coaxing you to cum with me. I feel you throb and gasps as you unleash rope after rope of your warm honey into my cunt and it triggers my release.  4 out of 5 hunnie…
love, jenny
Interested in what I honestly think about that throbbing cock of yours?
Keep It Private or Choose To Post For The World To See…